Meet the Cast & Crew of Something Rotten!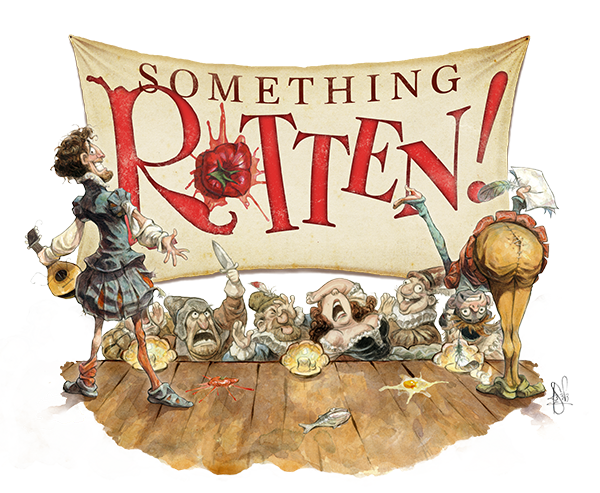 MEET THE CAST
Joseph Beem, Jr. (Brother Jeremiah) was most recently in the New Deal presentation of Hell is Empty, the RTS production of Secret Garden as Ben Weatherstaff and the CENTERStage production of Arsenic and Old Lace as Teddy Brewster which won the Broadwayworld.com Best Actor 2019 for Central New York. He is looking forward to the next fun challenge! 
Joe DeAngelo (Shylock) This 'insanity' is a welcome back to the Hudson Valley for Joe. He has been performing with local theater groups like County Players, the former Trinity Players, Clove Creek Dinner Theater, and most recent ; Ninety Miles Theater group in New Paltz . He has worked with many of his cast members before and it never fails to put him in the greatest of spirits. Thank you to all of you.  He dedicates this show to Mom and Dad DeAngelo, he always loved to make them smile.
Teresa Gasparini (Bea Bottom) is the Executive Director and a founding member of The New Deal Creative Arts Center where her greatest joy comes from instructing classes and directing productions with the youth of New Deal . Teresa formally served as the Artistic Director of Clove Creek Dinner Theater where she was a recipient of the Dutchess County Tourism Excellence in the Arts Award and a 40 Under 40 Mover & Shaker Award. She is happy to return to the stage in this strong female role and to perform among such a talented cast and crew. Special thanks to Tamara, Kelly & Karen for their brilliant direction and to the unstoppable and resilient cast & crew. Endless love to her team, her people, her supporters of dreams – Gracie, Stephen, Mom, Dad, and Mom W. – none of this would be possible without their limitless support and cheerleading skills. Huzzah!
Erin Hebert (Shakespeare) is excited and grateful to be emerging from quarantine with this starlit, won't quit, big hit musical! She graduated from Yale in 2018 and then moved to the Hudson Valley to work as a circuit designer at IBM. Recent credits include: She Kills Monsters: Virtual Realms (Backyard Theater Ensemble – Lilith), Matilda: The Musical (Up in One Productions – Mrs. Wormwood), Jesus Christ Superstar (Castaway – Ensemble/ Saxophonist), 'Hell is Empty; All the Devils are Here' Shakespeare Festival (New Deal Creative Arts – Hamlet, Isabella et al; Fight Choreographer), The Revolutionists (County Players – Olympe de Gouges), Newsies (Up in One Productions – Hannah), Ghost (Up in One Productions – Ensemble). In her spare time she enjoys playing saxophone, rock climbing, and volunteering at a local donkey farm.
Jane Langan (Ensemble) is excited to be making her debut with "New Deal Creative Arts Center" in one of her all time favorite musicals! Some previous credits include Matilda the Musical (Matilda), Secret Garden (Mary Lennox), Seussical (JoJo), Ragtime (Little Girl), and Miracle on 34th Street (Susan).  She would like to thank Christine, Nicole, Kelly, Karen, Teresa, and all the cast, and crew. She would like to especially thank Tamara for being such an amazing director/dance teacher, and for all the support and love.
Jess Lyke (Portia) grew up doing theatre all over the Hudson Valley. She graduated from SUNY New Paltz with a degree in Theatre in 2017 where she performed in a number of productions such as Dog Sees God (CB's Sister), Julius Caesar (Mark Antony), and Martin Crimp's The Country (Rebecca). Most recently, she played Catherine in Pippin at The Center for Performing Arts at Rhinebeck. This is her third production with New Deal and she has enjoyed every moment! Many Thanks to Tamara and Teresa for their dedication and courage as we worked to bring this remarkable show together!
Rianna Makow (Ensemble) is thrilled to be performing with New Deal. Past roles include Jean in August: Osage County and Charity in Anything Goes. Rianna is a dance teacher at Dance Works Too and recently graduated from Marist College. She is so excited to perform this amazing musical with some of her favorite people!
Melissa Matthews (Minstrel/Peter Quince/Troupe) has been involved with the theater, acting, directing, or designing, for more than 25 years. Most recently, she played Jake/Jackie in the Center Stage production of Love/Sick at the Center for Performing Arts at Rhinebeck. This is her second production with the New Deal Creative Arts Center, and she is so grateful for the opportunity to work with such an incredible company. Thank you to the cast, crew, family, and friends, to Tam, Kelly, and Karen, to Jen, Christine, and Nicole, and to Francie.
Kevin McCarthy (Lord Clapham) is elated and thankful to perform a musical in front of a live audience for the first time since the plague. Previous New Deal credits include The Great Gatsby (party-goer) and The Crucible (Thomas Putnam). Kevin appreciates everyone whose efforts over the last year-plus have made this production possible. He can next be seen as Big Davey in the RTS production of Billy Elliot.
Gretchen Nau (Eyepatch Woman/Ensemble) This is Gretchen's first performance with New Deal Creative Arts! Past performances include Ensemble in Mamma Mia!, Linda in the Wedding Singer, and Ensemble in Oklahoma! at the Phoenicia Playhouse. She is overjoyed to share the stage and tell this ridiculous story with such an amazing cast and crew! When not on stage Gretchen works as a Graphic Designer and Community Artist. Special thanks to her family for their unwavering support.
Matrix Odlum (Troupe) is making their New Deal debut in Something Rotten!, which is also their first full scale musical production! They have appeared in The Women as ensemble, The Prime of Miss Jean Brodie as Monica, and Rosencrantz and Guildenstern are Dead as a Tragedian, all through RPAC. They have also appeared in numerous student productions. Matrix is a RHHS senior who will be attending SCAD in the fall as a sequential arts major. They would like to thank everyone in this production for being so wonderful, friendly, and talented, and a huge thank you to Tamara for being such a lovely director and friend.
Duane Joseph Olson (Nostradamus) could not be more honored to be playing Nostradamus in this regional premiere. He has previously been seen Off-Broadway in Aesop's Fables: The Musical, and Off-Off-Broadway in Mr. Electric. Duane can also be found playing Cogsworth in BTP's streamed production of Beauty and the Beast. "I would never have made it this far without Mom, Dad, Sarah, and the whole family. My incredible teacher Rob McClure. Phil Sloves, who dismantled that whole tap break for me. The entire cast, and every last crew member. My friends. Anyone who has ever taken a chance on me, or given one to me; this one's for you. In whatever you do. To thine own self be true."
Joshuah Patriarco (Nick Bottom) Joshua is thrilled to be the first actor in the Hudson Valley to tackle Nick's unique and wonderful journey in this Regional Premiere. This role has provided a hilarious counterpoint to his 2 experiences playing the title role in Hamlet. Off Broadway credits include King Lear (The Fool), The Acting Lesson (Marlon Brando), The Furies (Orestes), Yellow to Lavender (Tennessee Williams). For his performance as Archibald Craven in The Secret Garden he received a 2019 Broadway World Award for Best Actor in a Musical. Additionally, his performances in A Streetcar Named Desire (Stanley Kowalski), Jekyll & Hyde (Henry Jekyll/Edward Hyde), Sunday in the Park with George (George Seurat) & Sweeney Todd (Sweeney Todd) were nominated for Broadway World's "Performer of the Decade" & "Vocalist of the Decade" in Central New York. Other credits include Jesus in Jesus Christ Superstar, Tommy in The Who's Tommy, Javert in Les Miserables, Marc Antony in Julius Caesar, Emilia in Othello, and most recently as the title role in Oedipus Rx. Patriarco is also a director, writer and private acting coach both upstate & in NYC. He is a proud member of the Screen Actors Guild. He would like to thank this brilliant cast and crew, most of all Tamara: for her heartfelt leadership, breathtaking commitment and inspiring creativity. This performance is dedicated to his hero, Kobe Bryant, who taught him never to back down from any challenge. Mamba Forever.
Diana Perretti (Ensemble) is thrilled tobe performing in her first NEW DEAL production! She was last seen in The Women at The Center for Performing Arts at Rhinebeck. Diana would like to thank this exceptional cast and crew for their incredible work and dedication to fun.
Frank Petruccelli (Robin) This is Frank's 3rd performance with the New Deal Creative Arts Center, although he has worked behind the scenes on a few productions as well. Previously Frank could be seen as himself in New Deal's cabaret In and Out of Love and Willard in Arthur Miller's The Crucible. After over a year in hiatus Frank is thrilled theater is back, that he's a part of this amazing cast and production of Something Rotten! (one of his most favorite shows). Frank thanks his wife Maureen for all her support. Always!
Howie Riggs (Troupe) Something Rotten! marks Howie's second performance with New Deal, having portrayed Meyer Wolfsheim in The Great Gatsby in pre-COVID 2020. He has appeared in numerous live and recorded presentations over the last 6 years with several Hudson Valley companies, most recently playing King Charlemagne in the CENTERstage production of Pippin. A lifelong Dutchess County resident, he's thrilled to help bring back live theater to our local community. Thanks to Teresa and Tamara for the opportunity and to family, friends and cast mates for patience and support.
Ross Schultz (Troupe) is 19 years old and is a student at Dutchess Community College. He works as a substitute teacher at Funshine Nursery School in Upper Red Hook, NY. He lived in Plano, Texas for 14 years until he moved to Hyde Park, NY in 2015. Some of his interests include residential interior/exterior design; which is what he will be majoring in in the fall of 2022, cars, photography, and The Sims 4. Ross has a dance background as well. He started dancing in 3rd grade and has danced at Plano Dance Theater and Dance Works Too – the owner of DWT is also the choreographer for Something Rotten!
Abigail Stritt (Ensemble) is a senior at FDR High School and is set to attend SUNY New Paltz this fall. Abigail was most recently seen is FDR's Spring Musical Curtains as well as past New Deal youth productions including Peter and the Starcatcher, A Midsummer Night's Dream, Romeo & Juliet, King Lear, and two performances for the annual teen holiday production of A World War II Radio Christmas. Abigail would like to thank her family and friends for all their love and support.
Dennis Wakeman (Nigel) has performed in a slew of shows within The Hudson Valley. Starting his post-grad performances in the Center in Rhinebeck, within five years he has had the opportunity to be the ghost of a father in Secret Garden, a Russian mobster in Thoroughly Modern Millie, and an overexcited pool boy in Mamma Mia! Something Rotten! marks his first production with New Deal Creative Arts and he cannot wait to see what lies ahead! He's thankful for the opportunity given to him by Tamara, as well as the hard work given by the cast and crew alike. He also is thankful to finally be back on stage after a year of uncertainty and vows to never leave it again!
Laurie Giunta Woolever (Judge) After a 40+ year hiatus, Laurie has returned to the stage, as an "actor". Her most recent role was that of Berthe in Pippin, in the CenterStage production at the Center for Performing Arts in Rhinebeck. Since her retirement from teaching music in the Hyde Park Schools, Laurie has spent the last 11 years behind a keyboard, accompanying musicals for The Center for Performing Arts in Rhinebeck, Dutchess Community College, and Trinity Players. She is thankful to Tamara for the chance to get out from behind the piano again, to Karen for the opportunity to learn new keyboard skills, and to all her former FDR choral students on stage, here and everywhere! Break a lip️ ❤!
MEET THE PRODUCTION TEAM
Tamara Cacchione (Director) is an actor, director, teacher, and mother.  She is honored to return to direct New Deal's first adult musical after directing New Deal's first adult play, Almost Maine in 2019.  Other recent regional directing credits include: Run For Your Wife, Caught in the Net, and Getting Sara Married at Clove Creek Dinner Theater.  Training: Vassar College (B.A Theater), Columbia University (M.S), Stella Adler Conservatory of Acting, National Theater Institute, Royal Shakespeare Co., Shakespeare & Co., Broadway Dance Center.  She wishes to thank her incredible cast and crew for all of their hard work. Thanks and Love to Kelly, Karen, Christine, Nicole, Stephen, Teresa, Scott, and Lisa. Thanks to her friends and family without whom none of this would be possible. Thanks to Olivia and Maya for letting their mommy be gone so many nights. "I can't wait to tuck you in again soon!"
Kelly Markou (Choreographer) started taking dance at 3 years old and fell in love with dance, choreography, and then teaching. Since 1998, she has owned and operated Dance Works Too! in Hyde Park, expanding from 6 students to a brand new space with 4 busy studios and named one of the ADCC's 2021 Studios of Excellence. The studio's competition and performance teams have garnered many accolades, including awards for Kelly's choreography in musical theater and lyrical styles. She also works with local schools to provide educational dance opportunities and performances. Kelly has worked in advertising as her career for the past 17 years but her passion will always be with dance and dance education as well as raising her children along with her husband. She has enjoyed working with everyone in the cast of Something Rotten! and feels blessed to be a part of this regional premiere brought to us by The New Deal Creative Arts! Thank you to Miss Teresa for her never ending support!
Nicole Murphy (Assistant Stage Manager) is thrilled to be a part of New Deal's first full length musical and the regional premiere of the show! This is Nicole's first time assistant stage managing and her second time working backstage. Nicole has performed in several shows onstage, her latest being Hannah in Newsies with Star 2B Performing Arts. She would like to thank Christine for being an amazing mentor, Tamara, Stephen, Teresa, Kelly, and Karen for all of the hours they put into this show, and her family for all the driving help. Break a leg to the cast, crew, and pit!
Christine McCarthy (Stage Manager) is thrilled to be stage managing a full-scale production with this wonderful cast and production team! During quarantine, she co-founded and stage managed Livingroom Shakespeare, producing 48 Zoom-based performances, a front-yard night of Shakespearean improvisation, and a staged reading of Twelfth Night at RPAC. She has also stage managed the streaming performances of The Covid Confessions and The Laramie Project at RPAC. She is eternally grateful to Tamara for this opportunity, the cast for their positive energy, her crew for their general rockstar qualities, her in-laws for nearly unlimited "grandparent time", and her husband and son, Kevin and Declan, for their ongoing love and support!
Karen Sheehy (Music Director) has been teaching music in the Newburgh School District for 16 years, where she also serves as the vocal director for the Newburgh Free Academy musical productions.  Most recently, she was the music director for The 25th Annual Putnam County Spelling Bee (County Players) and In the Heights (NFA).  Karen is beyond thrilled to be a part of this production of Something Rotten! in her hometown.  She would like to thank the incredible production team, amazing musicians, and dedicated cast and crew, who have all made this such a fun and fulfilling experience!  She also thanks her friends and family for their endless encouragement and support.
Scott Tunkel (Sound Designer) After designing and mixing many productions in Westchester, Scott is making a summer appearance in the Hudson Valley. He was the sound designer for Dogfight, Tarzan, Sister Act, Ghost, Sweeney Todd, Heathers, and Once Upon a Pastime at White Plains Performing Arts Center. He was the sound engineer for Linda Eder, Maccabeats, Well Strung, and Back to the Garden 1969 at WPPAC. He is currently the resident sound designer at Yorktown Stage. Being behind the sound board would not be possible without the loving support of his wife and daughter.
Stephen Woodcock (Technical Director) serves as the Finance Officer and "Right Hand Man" of The New Deal Creative Arts Center. By day, he is the General Manager of Adams Landscaping and also serves as the Ward 3 Councilperson for the Town of Hyde Park. Stephen was instrumental in the design and construction of the new outdoor stage at Hackett Hill Park and is excelling in his on-the-job training of set design/construction, lighting, sound, etc., etc., etc. Love to Gracie always!