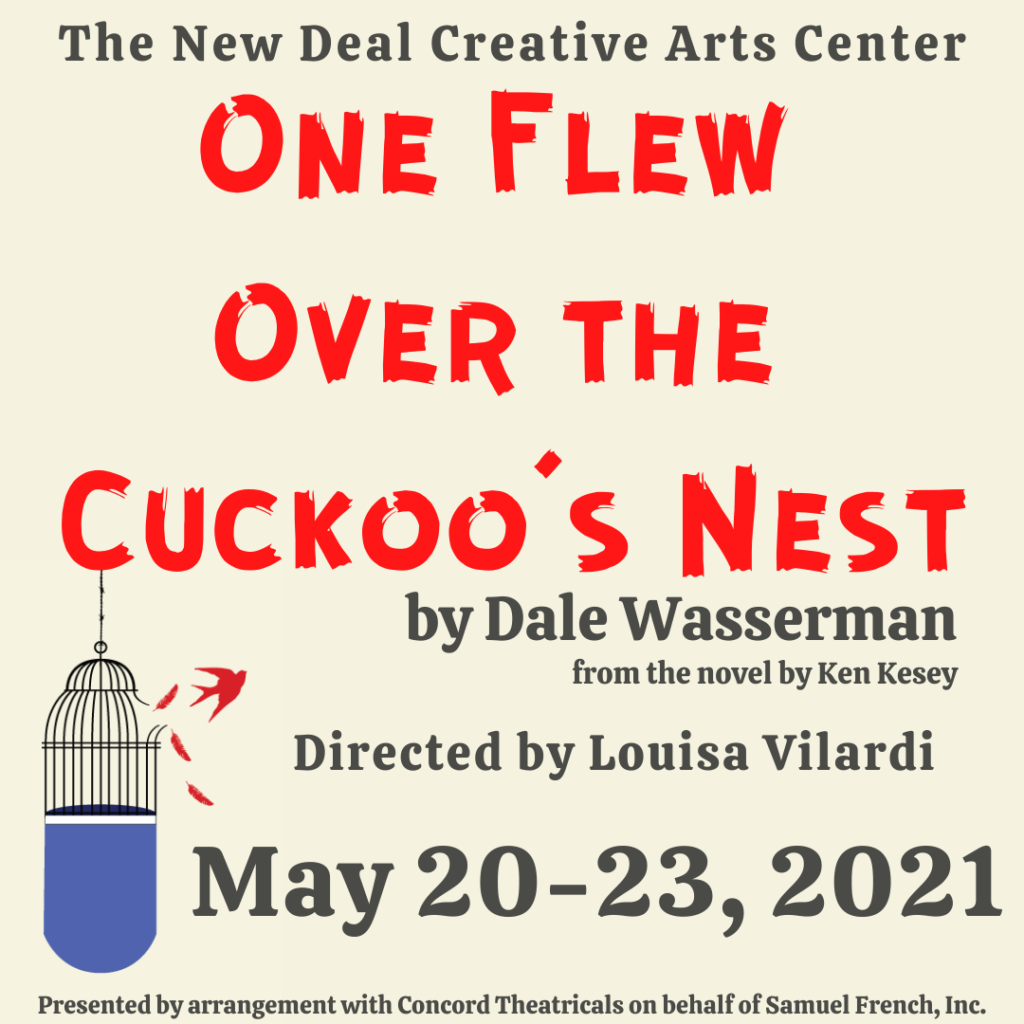 AUDITION INFORMATION:
Please submit a video submission by Friday, March 12, 2021 (by midnight) to: LOUISA@NEWDEALARTS.ORG
Invited callbacks will be Friday, March 19, 2021 from 6:00pm – 9:00pm
Call Back Location: The New Deal Creative Arts Center
960 Violet Avenue – Hyde Park, NY 12538
Please choose ONE of the follow pieces from the script to perform for your video audition. There may be other characters' lines between sections. Please disregard for the video audition.
McMurphy (pages 13-14)
Chief Bromden (pages. 17-18)
Harding (pages 27-28)
Nurse Ratched (pages 61-62)
McMurphy (pages 63-64)
SPECIAL NOTICE ABOUT COVID PROCEDURES:
In an effort to keep everyone safe while creating great theater, the following will be required and implemented during callbacks:

1. Masks must be worn at all times while in the studio – this will include actors and production team.
2. Temperatures will be taken before entering the studio. If anyone has a temperature of 100.4 or higher, they will not be permitted to enter.
3. Call times will be spaced out to avoid large groups and maximum of 4 people will be called per time slot.
4. Hand sanitizer will be readily available.
5. Tables, chairs, high traffic surfaces will be wiped down in between each group.
6. The New Deal Creative Arts Center uses UV Sanitizing lamps nightly in the office, restroom and studio.
7. Rehearsals will consist of both virtual and in person. All in-person rehearsals will be held outdoors. All performances of this show will be held outdoors.
8. Further questions or concerns can be directed to Teresa Gasparini at teresa@newdealarts.org
Thank you for your understanding while we work to keep you and others safe!