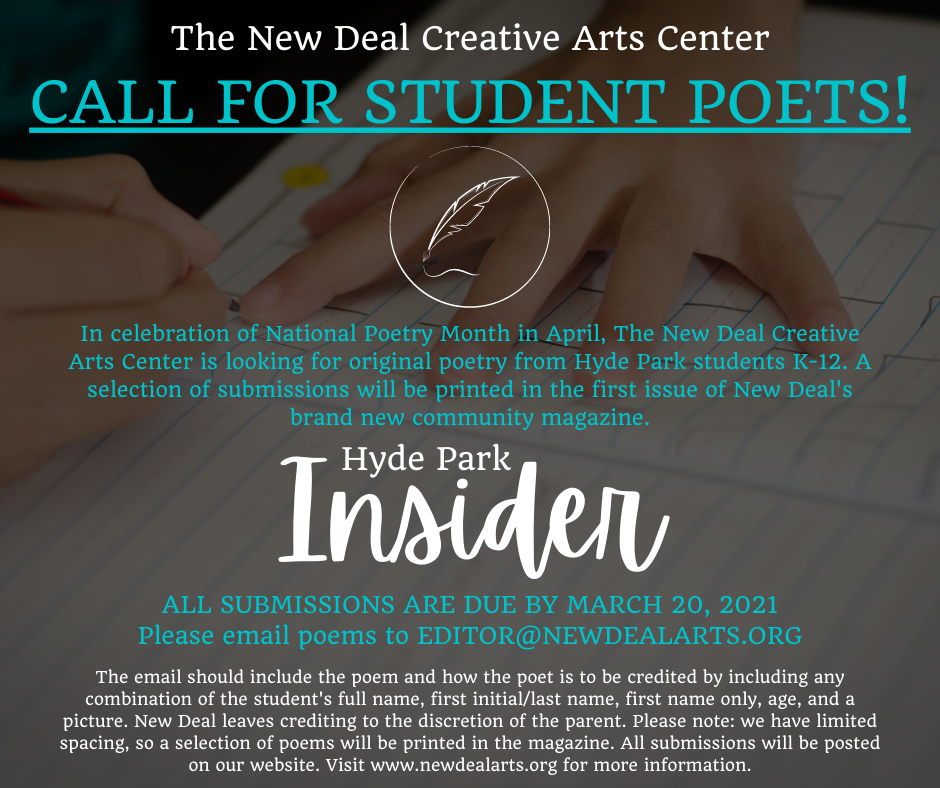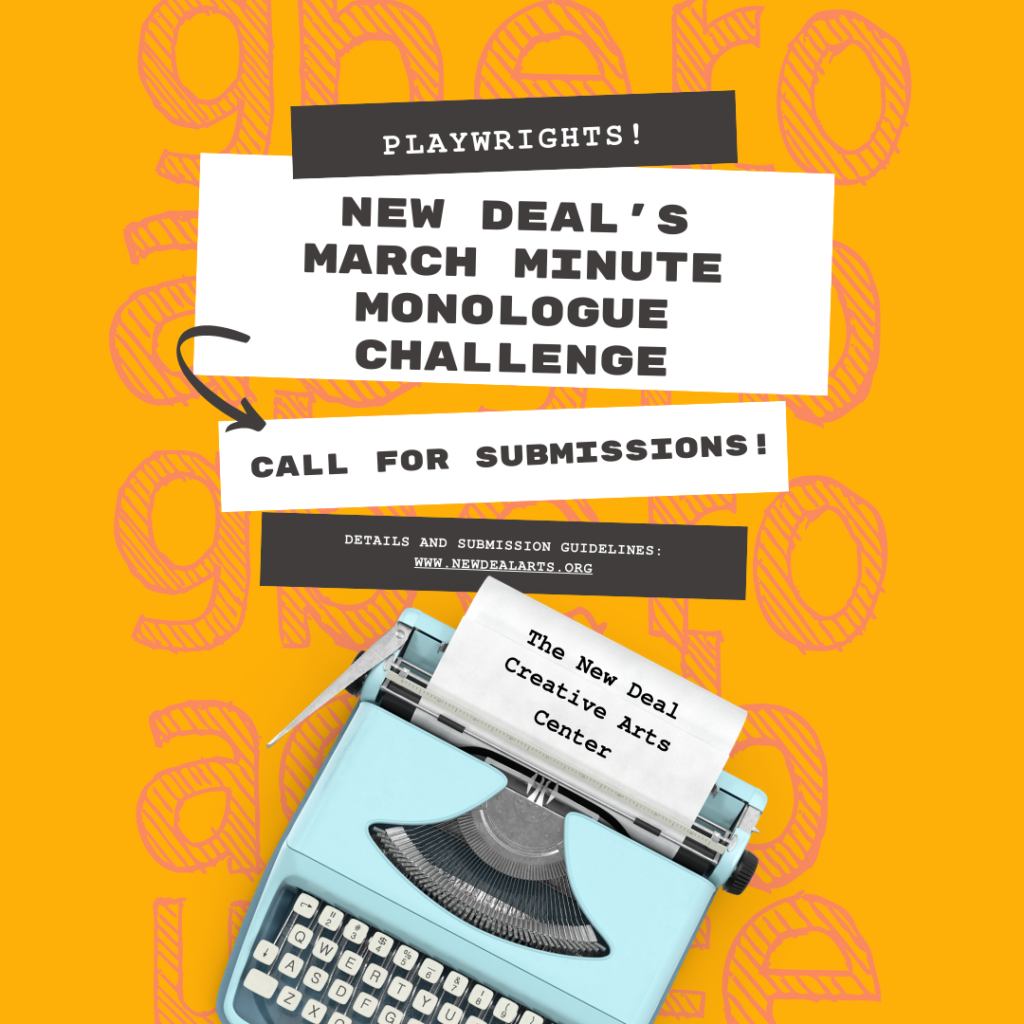 The New Deal Creative Arts Center's
MARCH MINUTE MONOLOGUE CHALLENGE
Interested writers must submit a one minute original monologue by Friday, March 5, 2021. Writers will be given a series of prompts and you will choose one and use that to write your piece. Prompts will give you a gender specification, an age range, and misc. words/phrases that should inspire you to write your one minute monologue.
Actors will then be cast to perform your monologue and self-tape. A compilation of all of the performances will premiere on New Deal's YouTube channel on Friday, March 26, 2021.
If you are interested in participating, please email Louisa@newdealarts.org for the writing prompts and to claim your spot in our challenge!
New Deal's March Monologue Challenge Submission Guidelines
Interested writers must email Louisa@newdealarts.org for the writing prompts.
A PDF of your one minute monologue (including a title and your name) is due by Friday, March 5th (by 11:59pm!) to Louisa Vilardi. Please specify which prompt you used.
Louisa@newdealarts.org
Subject: March Monologue Challenge
All monologues submitted must be original and may not be part of a larger piece of work.
Only one submission per writer.
Monologues must be no longer than one minute.
Generally avoid excessive or unnecessary use of expletives.
Late submissions will not be accepted.
By submitting your work to The New Deal Creative Arts Center's March Monologue Challenge, you agree to your monologue being performed and recorded to be publicly accessible on our YouTube channel.
Mission
An inclusive space for artists and audiences to explore and celebrate the intersections of the innovative and traditional through various methods of arts and expression, grounded in accessibility and opportunity in the arts for all. We will accomplish this by:
* Making the arts accessible to a wide range of artists and audience members regardless of race, age, sexual orientation, ethnicity, or background.
* Providing year-round programming in fine, visual, literary, and performing arts.
* Fostering community through  education, outreach, and professional artistic opportunity.
* Illuminating the historical identity of the Hudson Valley.
* Bridging artistic endeavors with social action, to make a meaningful impact on the community.
---
New Deal's Monthly Book Club
Email newdealcreativearts@gmail.com for more information